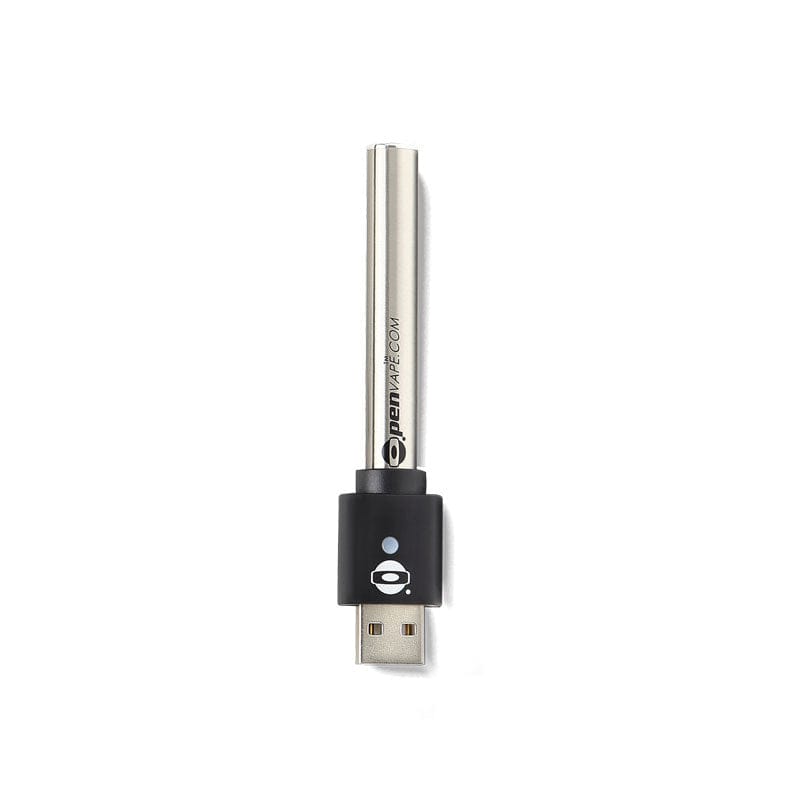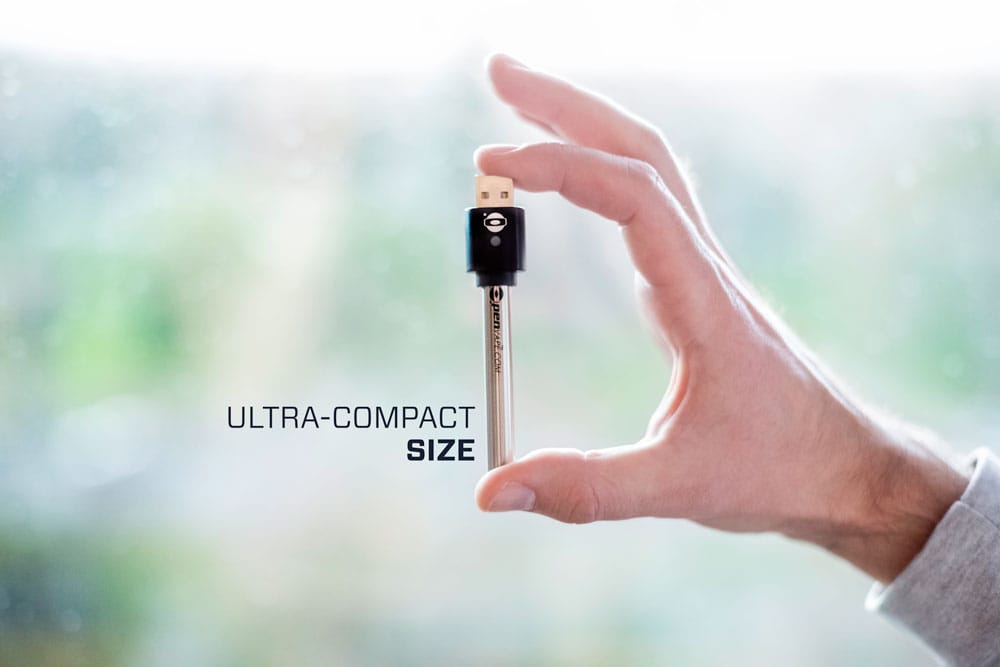 O.pen ISH Battery
In stock
Our most compact vaporizer battery, with a length of only 3 inches, this battery was designed to provide users with an ultra-discreet vaporizer option.
Additional Features Include:
Stainless Steel Finish
Draw Activated
3.7 Volts
Friend for Life Lifetime Warranty
510 Thread
Draw activated
ISH - Best Small Vape Pen For 510 Thread Carts
Vape pens are an increasingly popular way to consume cannabis extracted THC oil. They are discreet, easy to use, and rechargeable. These are the qualities that can be found with the ISH vape pen battery, which is a small battery for 510-thread oil cartridges. It was our goal to make the most affordable and compact vape pen on the market. We successfully developed an inexpensive 510-thread vape battery that hits better than options that cost a lot more. Get more bang for your buck with the smallest vape pen that has a price just as small, while still providing a premium vaping experience. 
Vape pens, while incredibly convenient, make them an easy item to lose track of. That's why when we designed the ISH battery we kept both portability and cost top of mind so that if you do lose your battery you're only out $9.99.  The ISH vape pen battery is a universally compatible 510-thread battery with a simple single 3.2 voltage, making it a great choice for just about any 510-thread prefilled cannabis oil cartridge (although we're partial to O.pen cartridges ;)
One Voltage Setting Optimal For Most 510-Thread Carts
Don't worry about trying to figure out the best voltage setting for your THC carts, the ISH is optimized with just one voltage setting (3.2V) that works well with almost any pre-filled cannabis oil cartridge. The O.pen ISH is a 510-thread vape pen battery, 510-threaded batteries are the universal design for batteries and are compatible with the majority of vape pen cartridges. If you're buying a prefilled cartridge, chances are that cartridge will be 510-thread compatible. However, 510-thread batteries are also compatible with many refillable oil tanks and wax atomizers. 
It's important to not overheat your vape pen battery, as higher temperatures can both damage the cannabis oil and damage the pen itself. The O.pen ISH Battery comes at a standard one temperature setting to mitigate the possibility of overheating. The temperature also provides smooth and consistent hits. 
Draw Activation 
First-time users can often be intimidated by vapes, as they seem less intuitive than a traditional joint. People often wonder what buttons they have to press and how long they have to hold before they can inhale. 
However, the O.pen ISH Battery is draw-activated, meaning there are no buttons to press. You simply inhale and the battery heats itself. This eliminates any need to turn your vape pen on or and bypasses the process of having to wait for the battery to heat up. 
Discreet Use 
The O.pen ISH battery allows for full discretion with a battery length of only 3 inches, making it one of the most compact batteries available on the market. It can easily be hidden in one's hand for a discreet vape hit. A large part of the appeal for small vape pens is discretion. Vaping THC oil smells less compared to smoking cannabis flower, and is a big factor behind the surge in the popularity of THC carts.
How to Use 
The O.pen ISH battery comes partially charged, but it's recommended that users charge their battery fully before usage. The battery comes as a USB that can be plugged into any conventional outlet or even a laptop. Once the battery is fully charged, simply screw it onto the vape cartridge and inhale. The small size makes it easy to store and carry around. Remember, to disconnect your cartridge and battery when not in use for child safety.
Safe
The O.pen ISH battery has a controlled temperature, thereby negating the risk of the battery overheating and exploding.
Are Cheap Vape Pens Still Good Quality?
The answer is, yes! With bulk production and strong supplier relationships, brands such as O.pen are able to manufacture cheap vape pens that deliver comparable quality to expensive ones. Our team is dedicated towards producing top-notch products at an affordable cost. 
Over the years, O.pen has gained a customer following that allows us to mass-produce compact vape pens fit for any budget. At O.pen, we're in the business of helping consumers reap the benefits of vaping at prices they can afford. 
We focus on manufacturing high-quality small vape pens at the lowest cost possible. It means you don't lose out on functionality by buying cheap vape pens. Our pens are equipped with high-powered, long-lasting batteries that you can depend on when you need them the most. 
We're proud to offer you a wide variety of compact vape pens that best suit your style or lifestyle. Our collection includes vape pens in multiple colors, sizes, and types, all at low prices. Plus, with each cheap vape pen, you get the Friend for Life limited lifetime warranty. 
What Should I Look for in a High-Quality Cheap Vape Pen?
When searching for a high-quality cheap vape pen, there are a few traits you should first scope out. Factors such as battery life, manufacturing materials, and the atomizer type play a significant role in determining whether or not a vape pen is of high quality. 
Battery -
It should come as no surprise that battery life and power should be at the top of your list of essential features of a vape pen. If a cheap vape pen doesn't have a suitable battery to power the amount you vape, it's not worth the cost. Avoid purchasing a small vape pen that dies in less than an hour, and seek out one with at least 3.7 volts. It will also help if you purchase a draw-activated compact vape pen. It reduces battery use by avoiding turning the pen, on and off. 
Vape pen material -
The material your vape pen is built with determines its quality. Remember that durable and conducive material prolongs the overall life of your cheap vape pen, and produces smooth hits. Titanium or stainless steel are the ideal materials for vape pens. 
Additional features -
You don't have to skimp on features when you're purchasing a cheap vape pen. With O.pen's collection of vapes, you can choose from draw-activated ones, those with different heat settings, compact vape pens, and many other features. For instance, O.pen offers a lifetime warranty, which is a bonus, especially because it comes at a lower cost when compared to other small vape pens. 

The Best Cheap Vape Pen for Sale
The O.pen ISH battery only costs $9.99, making it one of the most inexpensive vape pen options online. Because the battery is rechargeable, there's no need to purchase a new one every time the battery dies. 
If a less than $10 price point wasn't enough to convince you, the O.pen ISH batteries come with a Friend For Life warranty. If your battery breaks or stops working, the warranty allows two options for replacing the battery. You visit any O.pen retailer or a use of their $10 dollar expedited warranty, which grants access to a fully comped discount code for a new vape pen, available on the website. 
* Batteries require a full charge before first-time use. Please contact our customer service with any battery related questions.
*While Supplies Last
*All Sales Final